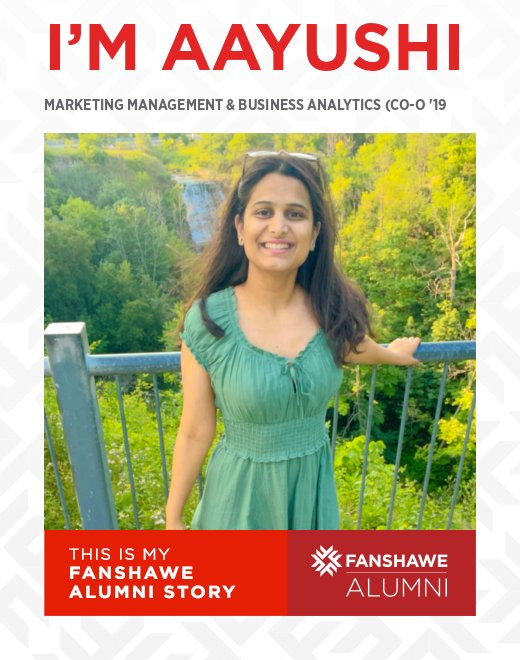 More Stories
I'm Aayushi
Marketing Management & Business Analytics (CO-O
Likes: 404

What brought you to Fanshawe?
Fanshawe had the perfect combination of courses and modules for marketing as it included data analytics. I noticed that the marketing course was helping me learn about market research as well as data crunching. My research through Linkedin gave me strong evidence of how well qualified the lectures were and that gave me a reason to apply!
Tell us about your favourite Fanshawe experience.
Fanshawe is not limited to classroom study in fact they have strong ties to companies that provide live workshops & webinars for students. As a student, it was essential to understand how the Canadian market works. My favourite experience was during the time I was selected to participate in the Google Ads grant challenge. It was to manage a non-profits google ads account. I got hands-on experience with Adwords, keyword research and worked with industry-level experts during that time. One other thing, the gym at Fanshawe rocks!!
What impact has Fanshawe had on your life?
I want to say Fanshawe has played an integral role in my growth path. Apart from giving me practical experience I had networked with lecturers who were experts at their work. All the lecturers were supportive and were able to provide live examples about work-life balance, how to tackle workplace situations and also how to maintain your mental health during the job search!
What are you up to now?
Currently working as a project manager at Delta. I started my career as a digital ads strategist where I would run paid social & search ads for clients. Today, I work on internal processes, team management, backlog grooming and a bunch of things in an agile environment.