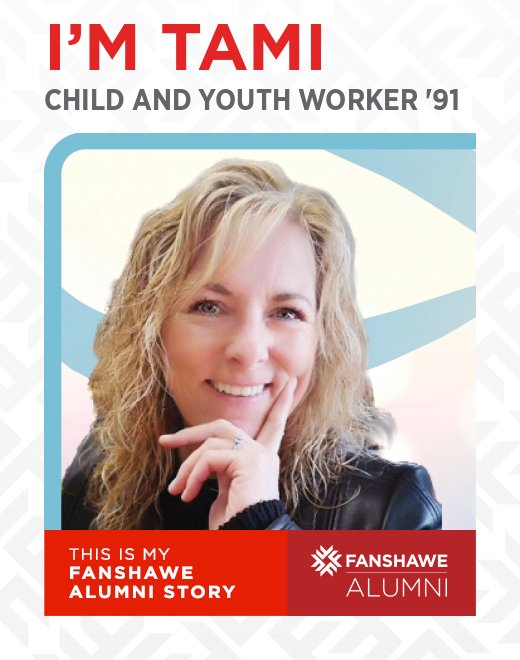 More Stories
I'm Tami
Child and Youth Worker
Likes: 417

What brought you to Fanshawe?
My desire to work with troubled teens, and change the world one kid at a time!
Tell us about your favourite Fanshawe experience.
My favorite Fanshawe experience involved meeting some of the most amazing people I still have in my life. My classmates were amazing! We all met again in a few years ago to celebrate our 25 years post graduation! Almost every class mate attended! My most valued experience was meeting my best friend for the past 30 years!
What impact has Fanshawe had on your life?
Fanshawe College provided me with the education, and experience provided me with a strong theoretical foundation and skill set in my career. Ten years after graduating from Fanshawe I embarked on obtaining my Bachelor's in Social Work and eventually obtained my Masters in Social Work. I have been fortunate to have worked with youth in psychiatric care, community program development and with the families of the fallen and inquired via the Canadian Armed Forces. In addition, I also have taught part-time in the Child Care Worker Program.
What are you up to now?
I currently own and operate a thriving private practice "Diversity Counselling" in Woodstock Ontario providing counselling and psychoeducational services to individuals and organizations, with a specialty in the area of Operational Stress Injuries and mental health services. I am the Co-founder and President of the Oxford County Pride Committee since its initiation in 2015 and an active advocate for marginalized/oppressed populations. I can proudly say I have been involved in raising ten of thousands of dollars for the LGBTQ2+ community and for CAF families struggling with an operational stress injury in the home. To provide psychoeducational training, intervention and evaluation to support mental health wellness and positive success measures for individuals and families.