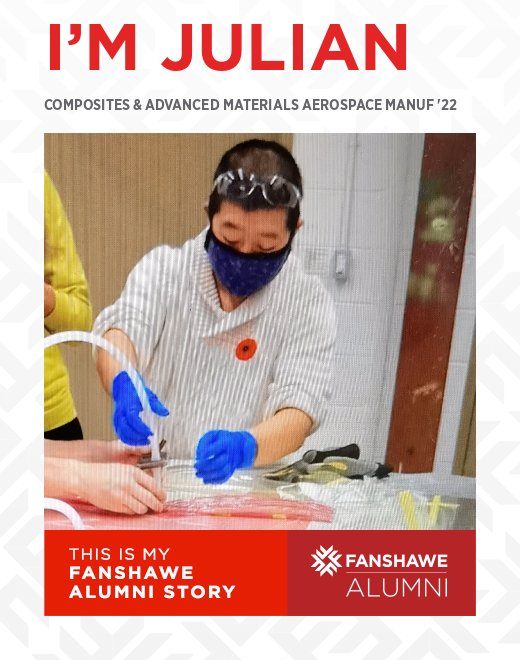 More Stories
I'm Julian
Composites & Advanced Materials Aerospace Manufacturing
Likes: 317

What brought you to Fanshawe?
I graduated from the last intake of Aircraft Structural Repair Technician program that were offered by Sault College in 2020. I've heard from my former professor of ASR, that a new Composites program were being produced and I quickly were excited to be able to further learn alternative techniques that industry is starting to work with.
Tell us about your favourite Fanshawe experience.
My favorite experience is learning new techniques from experienced professors such as testing, fabrication methods, patterns making, and composites repairs among others. Also, professors shown you ways to improve. By learning these skills, grads would be well diverse in the industry they are working towards.
What impact has Fanshawe had on your life?
The impact that this educational institution had in my life allowed me to have fun learning new things and find jobs out of graduation with the help of professors providing a career board to the class.
What are you up to now?
I got hired as a Composites Technician - Laminator with Multimatic Advanced Manufacturing Technologies (Multimatic Technical Center) in Markham, Ontario.