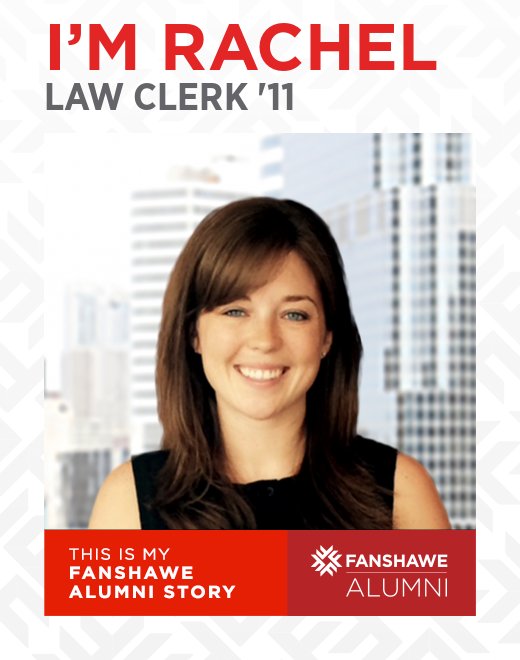 More Stories
I'm Rachel
Law Clerk
Likes: 405

What brought you to Fanshawe?
When I started applying for colleges, I knew I wanted to move to a different city to gain new experiences. Not only did Fanshawe offer the right program for me, it was also in a new city that would allow me to gain those life experiences I was looking for while still only being an hour away from home. What also drew me to Fanshawe was the fact that the program I chose was designed with a more hands on approach as opposed to theoretical learning which really helped me learn all the skills necessary to be successful in my career.
Tell us about your favourite Fanshawe experience.
My favorite Fanshawe experience was getting to connect and build relationships with not only all of my professors but with my classmates as well. Some of my closest friends I met through the program and I would not have the network I do if it wasn't for Fanshawe! Even after leaving the program, I am still very closely connected with the school and appreciate being able to stay part of the Fanshawe Alumni network.
What impact has Fanshawe had on your life?
The first job I received was through my co-op at Fanshawe. After working at this company for five years, I was able to use those skills that I learned to move me into a new opportunity that I love! Fanshawe has given me the necessary skills to grow professionally and I truly wouldn't be where I am without my experience at the school.
What are you up to now?
I currently work as a Manager overseeing a National team at an accounting firm in London. I get to use my passions everyday by leading and coaching a team of fantastic individuals to their potential. I also get the work with/design all of the processes for this team to ensure it functions smoothly. Even though I am not working in the field I went to school for, I am very happy with where I have ended up!