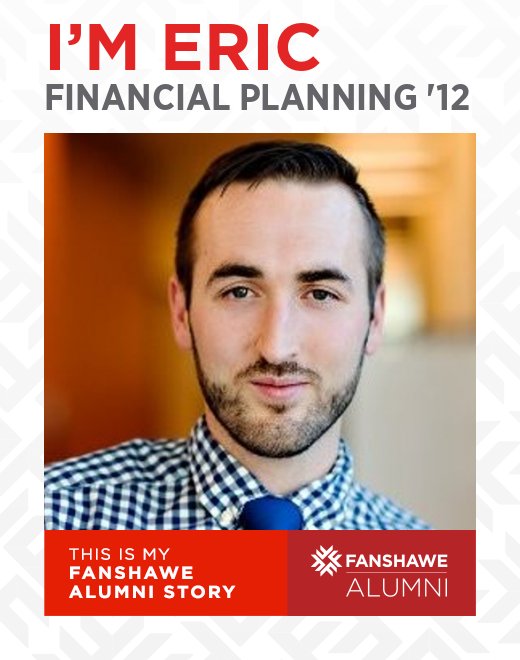 More Stories
I'm Eric
Financial Planning
Likes: 381

What brought you to Fanshawe?
In my final year of university I was exploring what I would do after graduation and discovered Fanshawe's graduate certificate programs. The ability to only attend 8 more months of school and attain the credentials and licenses needed for a career in financial planning was very appealing.
Tell us about your favourite Fanshawe experience.
The overall experience tends to stand out to me. Getting to know the other students and the teachers made things quite enjoyable: having the same classmates all week, studying together on and off campus, social outings and an intramural team. If I had to choose one, I am not sure why but the group investment competition stands out (I wish had bought Lululemon stock for real back then).
What impact has Fanshawe had on your life?
Fanshawe gave me what I needed to get started and succeed in a career in Financial Planning. I had a job right after graduation and all of the credentials I needed for licenses. While colleagues of mine worked on designations after hours, I had already completed the bulk of the requirements at school. I enjoyed university and it helped me learn more about learning, but Fanshawe helped me find a career.
What are you up to now?
I am married (to another Fanshawe grad) and have two kids. I am a Manager at Manulife Financial, working with a team of Advisors in the Manulife group retirement space known as Personal Plan. This is a $13B+ plan that houses group retirement members after they terminate from an employer plan held with Manulife. I am also a member of a Squad focused on strategy for retention and growth of this plan.