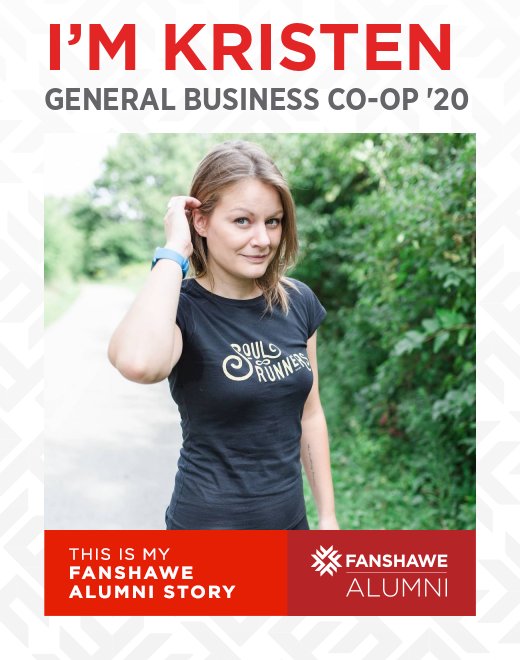 More Stories
I'm Kristen
General Business Co-op
Likes: 397

What brought you to Fanshawe?
This was my second time at Fanshawe College. I had originally picked a career in my early 20s that wasn't right for me. Ten years later I decided it was time to make a change.
I had always wanted to run my own business, but never knew where to start. My partner encouraged me to go back to school to learn how to become my own boss, and so I did! I graduated at the age of 35!
Tell us about your favourite Fanshawe experience.
I got to participate in Leap Junction's Accelerator program for my co-op semester, which is a service that helps entrepreneurs take their business to the next level. They helped me launch my business Soul Runners, where I got to work with some amazing people while gaining crucial hands on experience. It was by far, my most valuable experience from Fanshawe.
What impact has Fanshawe had on your life?
Fanshawe has had such a positive impact on my life. It has set me up for success by giving me access to resources, and connecting me to people who want to see me do well. It has really opened my eyes as to how tight of a community London is, and that we can't succeed without helping one another.
What are you up to now?
I am continuing to grow my business Soul Runners, where we teach guided running programs inclusive to people of all fitness levels.
I made the right choice in going back to school and I couldn't be happier :)