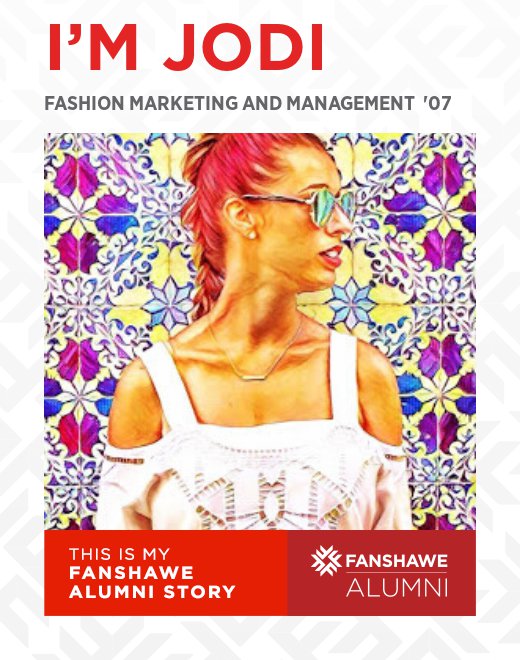 More Stories
I'm Jodelle
Fashion Marketing and Management
Likes: 464

What brought you to Fanshawe?
I've always had a passion for creativity, fashion and design and Fanshawe had exactly what I was looking for, with a program that provided a strong foundation in all the areas I loved. Since I wasn't quite ready to move away from home at 18 years old, I chose to pursue my passions at Fanshawe and I'm so happy I did.
Tell us about your favourite Fanshawe experience.
The final year-end wearable art fashion show "Sweet Escape '07". The graduating class was in charge of everything from creative theme development, production, marketing and promotion, design and execution. It was a huge undertaking and it taught us many things but most importantly teamwork and collaboration.
What impact has Fanshawe had on your life?
Fanshawe has had an enormous impact on my life... my experience at Fanshawe truly prepared me for the "real world" not only in terms of a career but so much more. It's led me back to the college in ways I never imagined.
What are you up to now?
I've spent the last decade and a bit working alongside some of the greatest mentors, friends and colleagues at major Fashion Wholesale Corporations, a Strategic Marketing Firm and currently one of SW Ontario's leading Colleges, Fanshawe College. I am the Alumni Relations Officer in the Advancement & Alumni Department at the college. So if you're reading this, it's nice to meet you (virtually) and I look forward to connecting with you someday soon :)