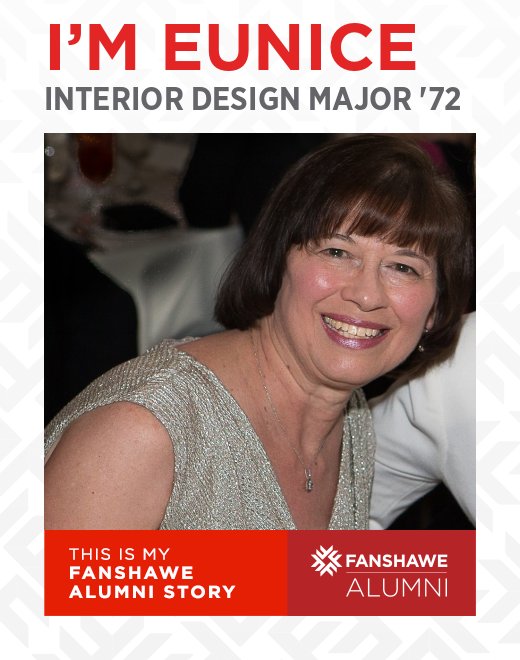 More Stories
I'm Eunice
Interior Design Major
Likes: 425

What brought you to Fanshawe?
I was set to attend Ryerson in Toronto, when I heard about Fanshawe's interior design program just in time to put a portfolio together for what became a successful interview. The first year of Basic Design which had first year students studying art history and working in different art media really intrigued me. I felt it would be an excellent foundation before studying interior design. Primarily a technical college at the time, we were the 'artsy' students with our own new arts building which created a great atmosphere to learn from our enthusiastic and dedicated instructors.
Tell us about your favourite Fanshawe experience.
Meeting my husband-to-be John McArthur and sharing our student experience throughout our time at Fanshawe. Also, Graduation…after 3 years of intense learning! I remember meeting Mary Ann Darling on my first day and enjoying her friendship throughout college. I continue to remember and honour her by supporting the Mary Ann Darling Memorial Alumni Award.
What impact has Fanshawe had on your life?
My time at Fanshawe was not just about achieving good grades, but also about maturing so that I was prepared to take on a professional career and adult life. Armed with confidence and the college's great reputation, I had my choice of jobs during my career. Not accepting some fantastic offers over the years was a result of several unplanned but necessary and rewarding moves. Friendships made at college are so very special. Even when life keeps one from reuniting very often, if at all, college friends remain an indelible bond in our lives.
What are you up to now?
Retired…but still always learning and following the latest trends in design. Eagerly awaiting the return to volunteering, travel and enjoying our extended family once we can safely do so again.