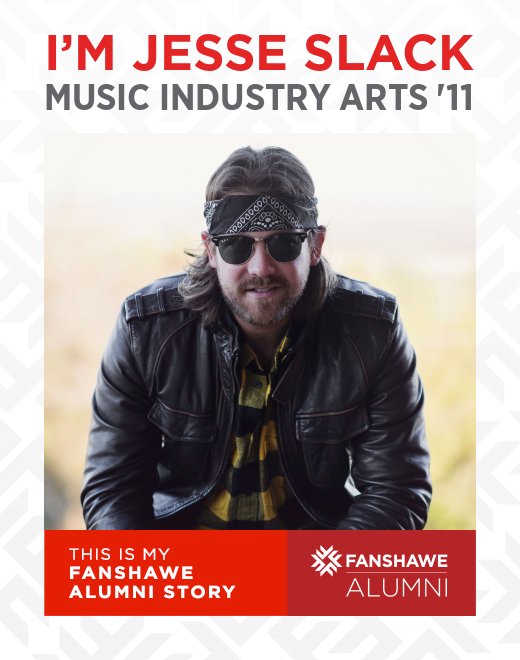 More Stories
I'm Jesse
Music Industry Arts
Likes: 399

What brought you to Fanshawe?
When I was in 8th grade I had the opportunity to play a date on Fanshawe Alumni - Sean Hogan's Christmas tour. After the gig Sean asked me about my dreams and told me the importance of education in the music business. He mentioned Fanshawe's M.I.A program and my mind was made. I had to go to Fanshawe
Tell us about your favourite Fanshawe experience.
Besides the 2A.M studio times and the overall vibe or working in studios some of my musical hero's worked in when they attended Fanshawe. My favourite experience at Fanshawe was having a sense of belonging. I still have many friends and contacts from years before mine and after and we bump into each other in places we never dreamed of back then.
What impact has Fanshawe had on your life?
Fanshawe's M.I.A program was a kick starter to my career as a singer-songwriter. From Dan Brodbeck recording my first single which opened up so many doors for me to Terry McManus setting me up with many contacts when I first started going to Nashville. I would be 10 years behind and very lost without these incredible mentors!
What are you up to now?
I am now a staff songwriter for VibeCity Music in Nashville, TN. I have written songs for major label artists Robyn Ottolini (Warner Music Nashville), Jade Eagleson (Universal Music) as well as many other artist worldwide.

Some more recent achievements:
2020 - Songtown USA "Songwriter Of The Year
2021 - JUNO "Country Album Of The Year" Nominee - Jade Eagleson - Songwriter "Hackin' Darts"

I am also growing my career as a recording artist as well.