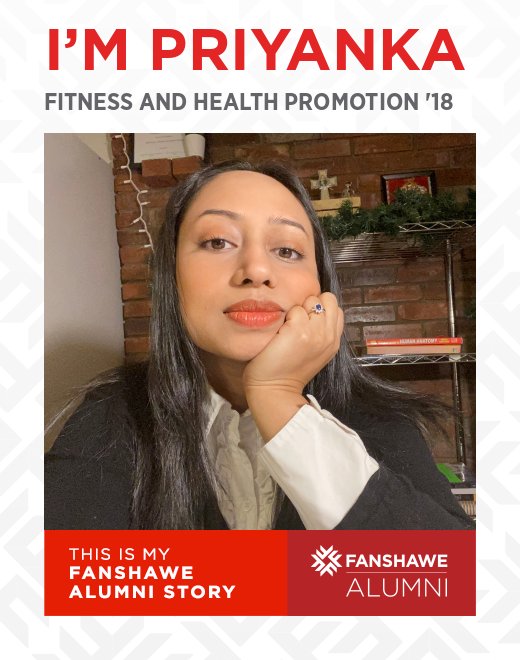 More Stories
I'm Priyanka
Fitness and Health Promotion
Likes: 420

What brought you to Fanshawe?
Okay! Before I begin I want to tell you that Fanshawe was the best decision I have ever made.
So at very young age I have become licensed physiotherapist of 2 different nations. I was very successful yet I was always hungry to learn more about human health and related subjects. Reading health-related articles, watching YouTube videos and much more made me realized that I don't know how much I don't know. And.. Yes! you guessed it right. After happily giving up my career I came to Fanshawe to learn "Fitness and Health Promotion- FHP".
Tell us about your favourite Fanshawe experience.
The entire Fanshawe experience was a sweet experience for me. I am not exaggerating at all. I have been saying this from the beginning. I came to Fanshawe I felt I got a second chance to learn everything I do not know as a health professional. Coming to London, studying at Fanshawe helped me connect with myself. Their constant support and genuine concerns for their students made me fall in love with the institute.
What impact has Fanshawe had on your life?
Well, back then Fanshawe helped me to decide what I am currently doing in my life. It taught me to believe in myself and love myself. Since I started to have faith in my professional ability I never had to stop and look back. Success followed me and today I proudly say I am a Fanshawe Grad.
What are you up to now?
I am a proud Fitness Trainer for physically challenged populations and for elderly. I work with individuals who are in need of extra care and attention in the community. I have clients with various health conditions like- Parkinson's Disease, Stroke, Lupus and more. I can say that I was praised by a neurologist for making his patient walk for the first time in decades! My confidence and competency which I earned from Fanshawe are helping me to bring positive changes in so many lives. Improving the quality of life for those who created this world (elderly) for us is a blessing. Thank you Fanshawe!