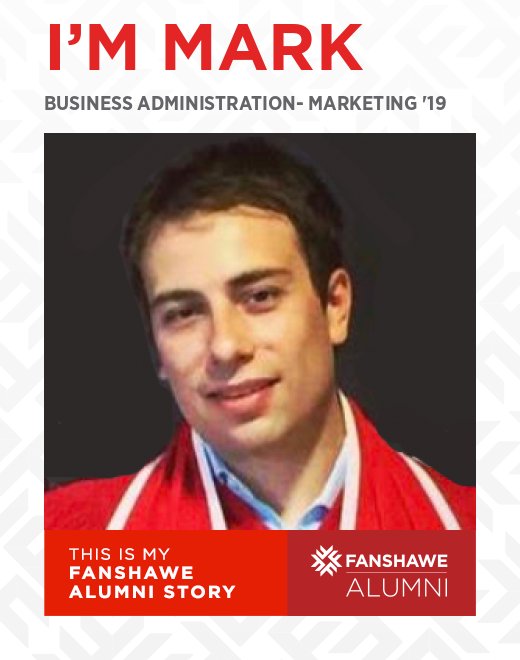 More Stories
I'm Mark
Business Administration- Marketing
Likes: 379

What brought you to Fanshawe?
Growing up in London and having both parents attend Fanshawe at one point in their lives Fanshawe was always of interest to myself, but the real push was seeing a fellow high school class mate of mine having success at the school and really enjoying the experience.
Tell us about your favourite Fanshawe experience.
My favourite Fanshawe experience was playing for the extramural ice hockey team and travelling across Ontario to compete against other colleges with my teammates and fellow students. It was exciting being able to represent Fanshawe and develop life long friendships with my peers.
What impact has Fanshawe had on your life?
Attending Fanshawe was one of the best decisions I've made. It gave me substance and purpose at a particularly down part in my life, and provided me with the professional skill set to thrive in the modern business world. On top of all that, the unique student experience and strong friendships made along just make the experience that much sweeter.
What are you up to now?
After graduating the 3 year Business Administration- Marketing Advanced Diploma program in 2019, I started my professional career as an Inside Sales Executive with PSD- Research, Consulting, Software. Operating within the public sector, PSD is a global leader in the provision of enterprise software solutions and professional consulting services for asset management program development and financial budgeting/reporting.