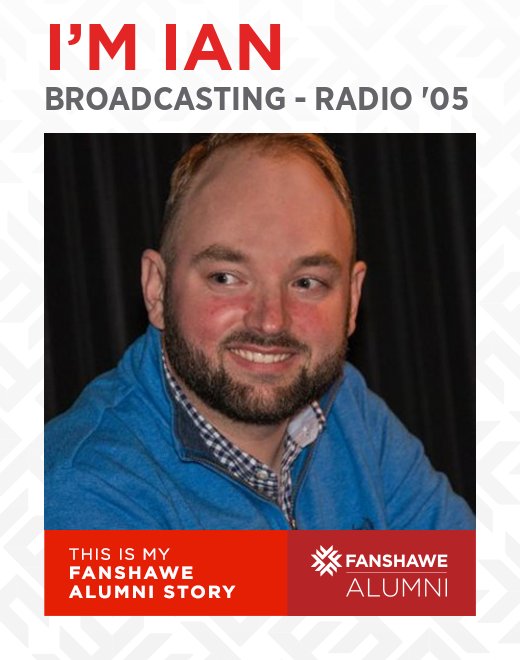 More Stories
I'm Ian
Broadcasting - Radio
Likes: 265

What brought you to Fanshawe?
Back in high school, I listened to live to air broadcasts on the radio and thought "It would be so cool to do that one day!" Radio seemed like a fun and interesting industry to explore. Lo-and-behold, Fanshawe helped make that dream of mine a reality. As someone who grew up close to London, Fanshawe was always on my radar and my number one choice when the time came to apply for post-secondary programs.
Tell us about your favourite Fanshawe experience.
I think some of my fondest college memories are the lifelong bonds and friendships I made with my classmates. I'm still close with many of them today and we often reminisce about our Fanshawe days. Whether it was early morning or late night on-air shifts, cram sessions, parties or live to airs, I cherish all those friendships and memories.
What impact has Fanshawe had on your life?
Fanshawe gave me the skills and knowledge I needed to land my first job in the industry. All the practical know-how and experience were key, and I wouldn't be where I am today without it.
What are you up to now?
I'm working for Rogers Sports & Media as a creative writer in Kitchener, and I do a bunch of fun stuff there. Working for six radio stations and writing Sportsnet 590 The Fan imaging and Sportsnet TV commercials are a few of them! In my spare time, I'm also a freelance writer who covers anything and everything, but mostly it's an excuse to write about the Toronto Blue Jays.