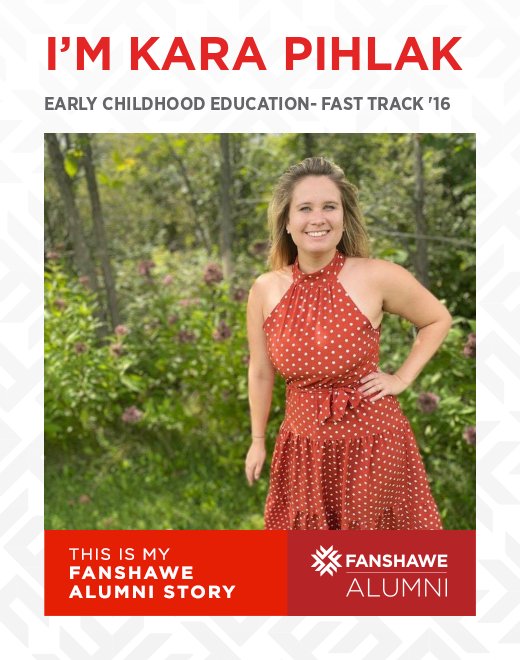 More Stories
I'm Kara Pihlak
Early Childhood Education- Fast Track
Likes: 395

What brought you to Fanshawe?
I came to Fanshawe after completing a 4 year BA at Western in Psychology. I did not have any career prospects from my BA,. Before and during University, I worked at day camps and in Before and After school programs. I wanted to apply practical and skillful knowledge of working with children in the Early Childhood Education fast track program,
Tell us about your favourite Fanshawe experience.
I had a wonderful Fanshawe experience during my one year fast track ECE. I learned all the technical and practical skills I needed to be a wonderful ECE, and joined the workforce as a full time ECE as soon as I graduated.
What impact has Fanshawe had on your life?
It impacted in my life in all ways. I was able to find my passion for Early Childhood Education and start my career journey.
What are you up to now?
I am now the Executive Director of Oak Park co-operative children's center here in London. I lead and manage a quality childcare center for 34 families. I am also the chair of an Advocacy subcommittee through LCCN, We lead advocacies efforts with all level of government, for a higher quality early years program for all, with a focus on ECE wages and recognition.