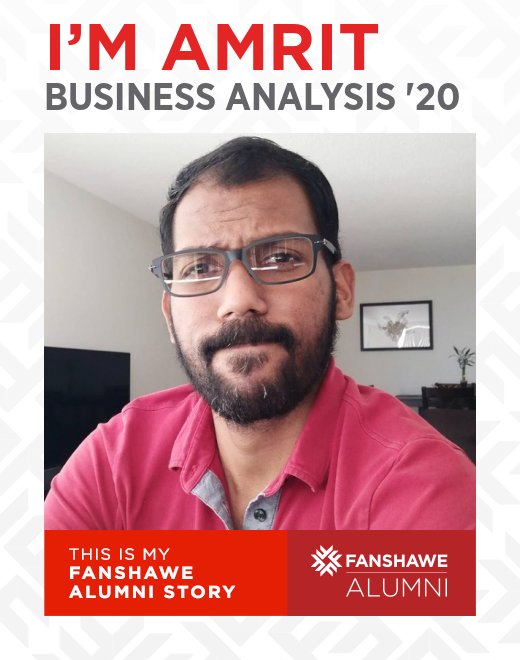 More Stories
I'm Amrit
Business Analysis
Likes: 361

What brought you to Fanshawe?
Some good friends were coming to Fanshawe and they thought it would be an adventure if I came along as well. From the many programs offered, Business Analysis was the winner since I've worked as an analyst most of my life, and I felt the program would give me the foundation I felt I lacked.
Tell us about your favourite Fanshawe experience.
It's got to be the friends that became like family. My group was a mix of personalities and cultures but had a strong drive to be the best in the course. Especially being new to Canada, it was great to have friends to help you navigate the city. To this day we still connect almost daily and one of my best friends in the course works with me.
What impact has Fanshawe had on your life?
The biggest impact was meeting my employer at orientation week. I was researching the firms at the start of the presentation and one stood out. At the end of the presentation, I introduced myself, which led to follow-up meetings, and with support from my co-op advisor, I was able to get my co-op at the company.
What are you up to now?
my co-op turned into a permanent job at the company where I work as a Business Analyst - Special Projects, helping improve client engagement, supporting the development and project teams with requirements and support the growth and development of our analytics division.