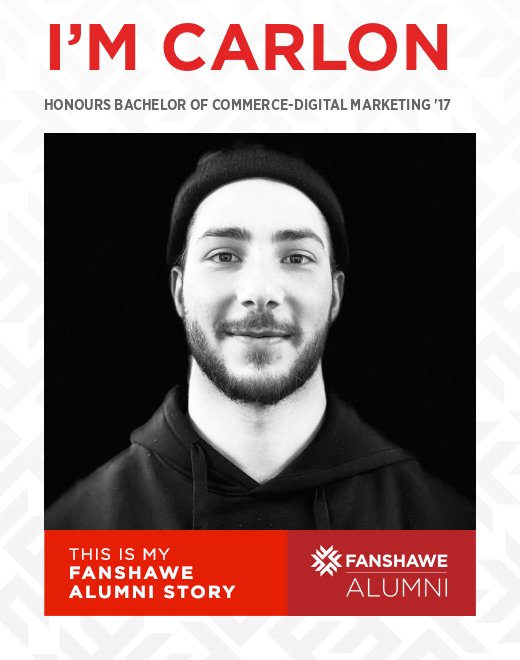 More Stories
I'm Carlon
Honours Bachelor of Commerce-Digital Marketing
Likes: 485

What brought you to Fanshawe?
I wanted a hands-on learning experience. I wanted smaller class sizes and to know my professors personally. I had previously went to university for economics and knew that that was not the place for my creativity to flow. I had to ask myself 'where can I still apply my business mindset but allow my creative thinking to shine?' Being born and raised in London, Ontario and with my Father being a Fanshawe Alumni, the choice was easy.
Tell us about your favourite Fanshawe experience.
My favourite Fanshawe memory is tough to narrow down to one event. If I had to choose I would say it was when I completed the last assignment in the third year BAM program. That year was by far the most useful for my position today when it came to applying what we learned in real world situations. But with that came intensity. It was a non-stop year that really pushed me – in a good way. I was able to look back and give myself a pat on the back when I finished that last paper.
What impact has Fanshawe had on your life?
Fanshawe has had a massive impact on my life; not only with the relationships I've built, but how I've applied what I learned in the classroom. Many students in the Digital Marketing program get their co-op placement and after it is complete, move on to something different. I am privileged to have found an amazing placement with an incredible group of people around me. I have also hired and trained 4 other Fanshawe co-op students throughout my time because I know what is needed to be successful in this role.
What are you up to now?
I am currently the Marketing Director at Locorum – a local business rewards platform where we help small business sell their products/services with e-commerce and marketing solutions and the Marketing Director at The Santa Sells Houses Team – a local real estate team with a community centric vision to help people buy, sell, and invest in real estate. I also am the founder of a Landscaping company here in the city called The Mulchman, where we make your gardens look mulch better.