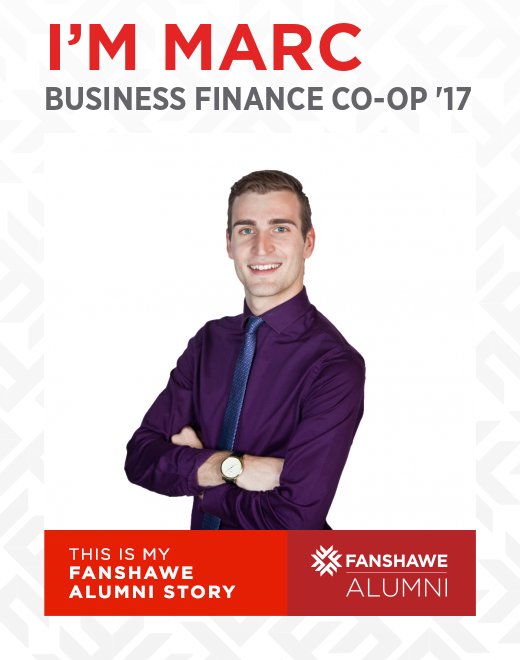 More Stories
I'm Marc
Business Finance Co-Op
Likes: 295

What brought you to Fanshawe?
Unsure of the direction I should take after high school, I applied to Fanshawe's Pre-Health program as it was close to home and had a great reputation for helping those interested in health care navigate one of life's biggest decisions - what you will do the rest of your life. After graduating and realizing health care was not for me, I read up on Fanshawe's Business Finance Co-Op program. Not only did this program provide the foundation and licenses for a successful career in Finance, but the Co-Op portion also provided me invaluable, real work experience.
Tell us about your favourite Fanshawe experience.
The faculty and my classmates at Fanshawe were fantastic! We shared many great memories in the classrooms, when we were studying or enjoying what the City of London has to offer.

From an educational standpoint, I thoroughly enjoyed the holistic approach to the curriculum. All of our industry-experienced professors worked together to ensure we had the tools and knowledge to become successful financial planners.
What impact has Fanshawe had on your life?
Fanshawe helped me determine my passion and find the career I am excited to wake up for every morning. The Business Finance program has allowed me to be successful in my role at Mainstreet Credit Union where I have been able to assist members (clients) with buying their first home, financing their children's education, helping them retire comfortably with peace of mind and everything in between.
What are you up to now?
While at Fanshawe, I completed my co-op placement at Mainstreet Credit Union where I started as a Member Service Representative (teller). Fast forward 5 years and a few different roles, I am now a Wealth Management Advisor with the same Credit Union. In my role I complete financial plans and provide members (clients) with the investment tools and opportunities to make their plans and goals a reality. I have my RIS (Responsible Investment Specialist) certification and my QAFP (Qualified Associate Financial Planner) designation along with my Mutual Fund and Canadian Securities license.