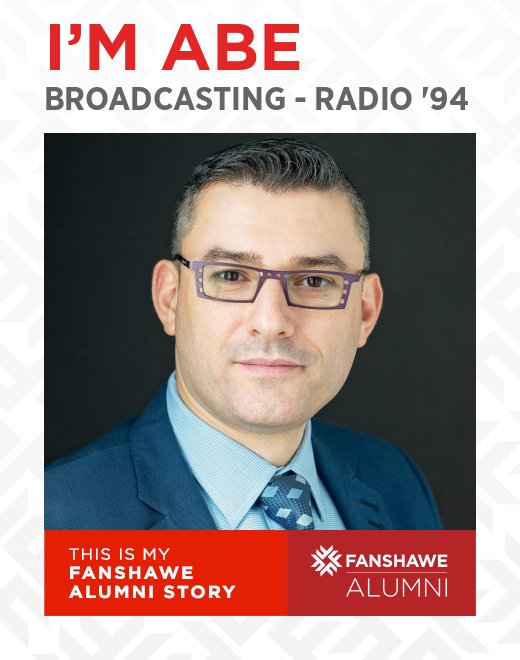 More Stories
I'm Abe
Broadcasting - Radio
Likes: 413

What brought you to Fanshawe?
In my teen years, I was what you called a radio rat or radio junkie. Radio really fascinated me, so I started calling in to my favourite radio station and started talking to all of the "DJs". That fascination grew into a passion and it was those "DJs" that told me to go to Fanshawe which had an amazing reputation in the radio industry.
Tell us about your favourite Fanshawe experience.
Getting accepted into the program for starters! But, my favourite Fanshawe experience was going on the air for the first time on CIXX-FM, Fanshawe's fully licenced radio station.
What impact has Fanshawe had on your life?
Fanshawe has changed my life. After spending some time working in the industry, I had an amazing opportunity at Fanshawe when I was hired as a full-time Faculty member IN the program I graduated from. I'm not sure what the odds of that happening are, but I am now able to take my two passions of radio and teaching and combine them. 22 years later, I'm still having a blast!
What are you up to now?
I am currently a Professor and the Program Coordinator of the Broadcasting - Radio and Media Production program.