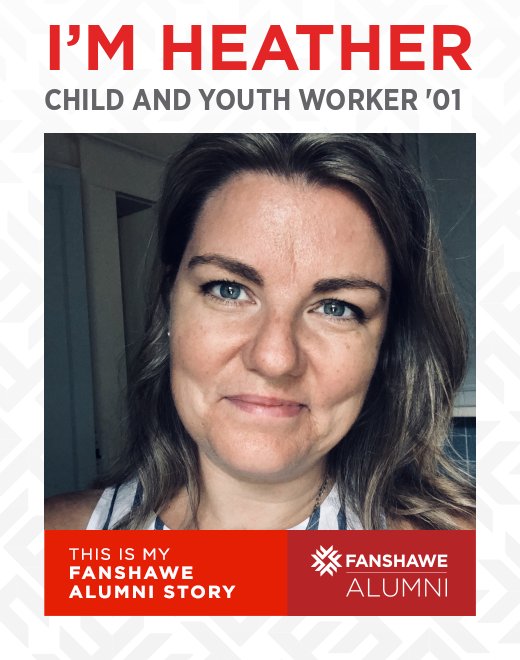 More Stories
I'm Heather
Child and Youth Worker
Likes: 454

What brought you to Fanshawe?
After high school, all my friends headed off to various universities however, it was important to me that I stay in my community and attend a school that offered a program I was interested in and could see myself working in that field after graduation. I had always known that Fanshawe was a good school with a good reputation and prided itself in getting students into the workforce.
Tell us about your favourite Fanshawe experience.
I had a unique experience of starting in a program that I thought I wanted to be in and then, after first term, I changed my direction. The Student Services department at Fanshawe were committed to getting me back on track and into a program that best suited my needs. Once I enrolled in the fulltime Child and Youth Worker Program, I knew that this is where I was meant to be all along.
What impact has Fanshawe had on your life?
I'm still friends with my former classmates and even meeting coworkers that were in some classes as well. The connections and networking you do at Fanshawe can benefit you throughout your career. During my three year program, I began working in my second year at Craigwood Youth Services. Then once I graduated I was hired on at Western Area Youth Services and at the same time at Children's Aid Society of London-Middlesex. And finally, my current position, where I have been for almost 15years, Family and Children's Services of St Thomas and Elgin County.
What are you up to now?
For the past almost 15 years, I have worked fulltime as a Youth and Transition Worker at Family and Children's Services of St Thomas and Elgin County. This unique position has me working the frontline with young people who are transitioning out of the child welfare system into independent living. I feel very fortunate to be involved in these young people's lives at a time when they are quickly learning about the challenges and opportunities that come with living independently. Walking alongside these youth as they begin their next chapter in their life reminds me that being an advocate for youth is where I'm meant to be.