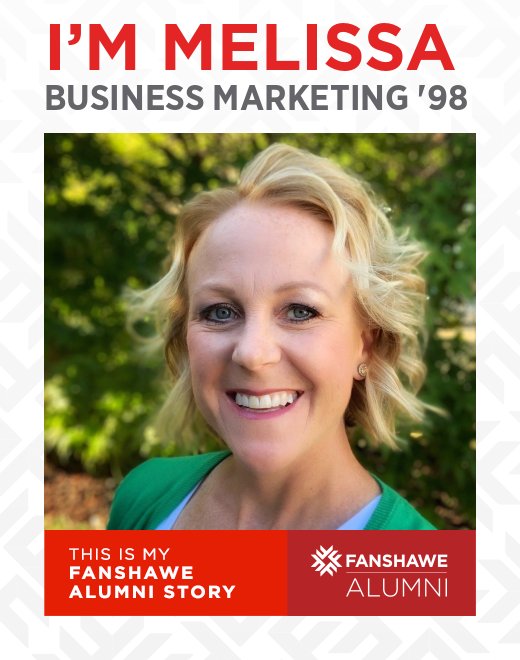 More Stories
I'm Melissa
Business Marketing
Likes: 463

What brought you to Fanshawe?
I started my post-secondary journey in university and was disappointed with the experience. I wasn't sure the academic route that I had selected for myself was the right fit for me. I hadn't initially considered college as an option and had limited guidance re: the benefits that college had to offer. After speaking with an academic counsellor, I decided to transfer to Fanshawe College and was SO glad I did! The "smaller" campus feel was exactly what I was looking for. I liked the tactical nature of the course, and the fact that I was learning HOW to do a job.
Tell us about your favourite Fanshawe experience.
My favourite Fanshawe experience has been meeting other Fanshawe grads throughout my career. There are so many of us! Everyone has such fond memories of Fanshawe and most are still tied to the college in some way. I feel that speaks volumes about their dedication and appreciation for all Fanshawe had to offer.
What impact has Fanshawe had on your life?
Fanshawe has had an incredible impact on my life. It's been twenty years since I graduated from Fanshawe, and I am still using the basics of what I learned to perform my job. I am so grateful for the knowledge and experiences that Fanshawe provided to me, and decided several years ago to volunteer as a mentor for new Fanshawe students. It's rewarding to be able to "give back" and share some of the wisdom I have gained over the years in my career field. Depending on your career aspirations, Fanshawe College is definitely an option to consider!
What are you up to now?
I'm currently working as Manager of Communication and Engagement at St. Thomas Elgin General Hospital. I am responsible for all internal and external communication activities, as well as working alongside community partners to promote collaboration with our community. I also serve as a Board Member on Fanshawe's Alumni Board. I have one daughter who will be considering her own post secondary options in just four short years. Go Fanshawe!