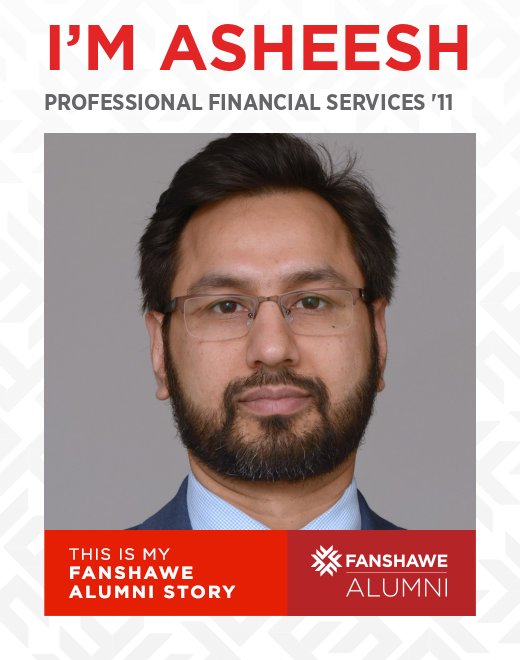 More Stories
I'm Asheesh
Professional Financial Services
Likes: 386

What brought you to Fanshawe?
Personal Financial Planning was an area of growth, and is still growing. Up until recently personal financial planning was at the mercy of tips from stock brokers and some uncoordinated tax tips . I was looking for a program that would help me learn and put together various aspects of personal finance in a meaningful way. Financial Planning program at Fanshawe gives you more than just a Diploma.
Tell us about your favourite Fanshawe experience.
Everyday at Fanshawe was enjoyable, I was new to Canada and had to learn a lots of basics. I would google every word that came out of people's mouths; RRSP, GIC, Timbits! The professors were exceptionally good, with vast industry experience, knowledge and had inclination to impart their wisdom. I spent hundreds of hours in the library and the computer labs.
What impact has Fanshawe had on your life?
My education at Fanshawe provided me with a strong foundation for a career in financial services. I was inspired to continuously learn, and utilize my knowledge to make a difference in the community. I have since not stopped learning, and have been acquiring more financial designations, and I thoroughly enjoy it.
What are you up to now?
I am settled with my family in London, Ontario. Professionally, I work with TD Wealth Private Investment Counsel in London, Ontario. In my role I create comprehensive financial plans for our clients, construct efficient investment portfolios accordingly, and provide advice on various financial matters.