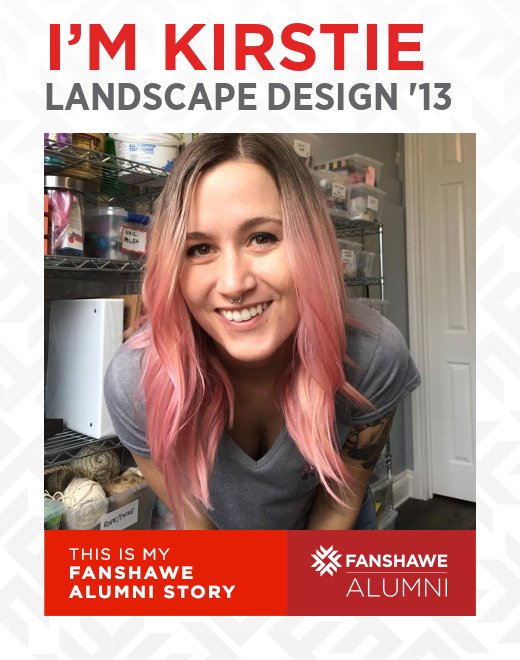 More Stories
I'm Kirstie
Landscape Design
Likes: 183

What brought you to Fanshawe?
Born and raised in Chatham, ON, I was eager to get out of my small town while still staying local and being able to easily visit my family. I was always interested in art and design, and adding an extra element (4 seasons of growing and changing) I chose to study Landscape Design at Fanshawe!
Tell us about your favourite Fanshawe experience.
While at Fanshawe, I met a ton of different people that open my horizons in respect to the world around me, but also within myself; during my 3-year advanced diploma program, I attended the LGBT+ club, Spectrum, and by my second year, served as Vice President, and then President by my third year! Organizing school-wide events celebrating our own uniqueness was definitely a highlight.
What impact has Fanshawe had on your life?
I can't say enough about how important it was for me to get out on my own, and how much I learned about myself in the process! I was able to explore and stretch my understanding of the world, and challenge myself both inside and out of the classroom.
What are you up to now?
I dabbled in landscape design for a few years, and tried a variety of other creative pursuits (like interior design and home staging) but after a 5 year career as the Creative Director of a DIY social media brand, I found there was a niche for a local DIY studio; I've opened Hello Maker in downtown London, where we offer a variety of DIY and art workshops (like candle making, polymer clay, embroidery, and more) but also bring together 12 new vendors each month at our pop-up market called Hello Market (last Sunday of each month, from 1-4PM). Getting to be wildly creative, entrepreneurial, and cultivate a creative community is exactly what I was meant for!