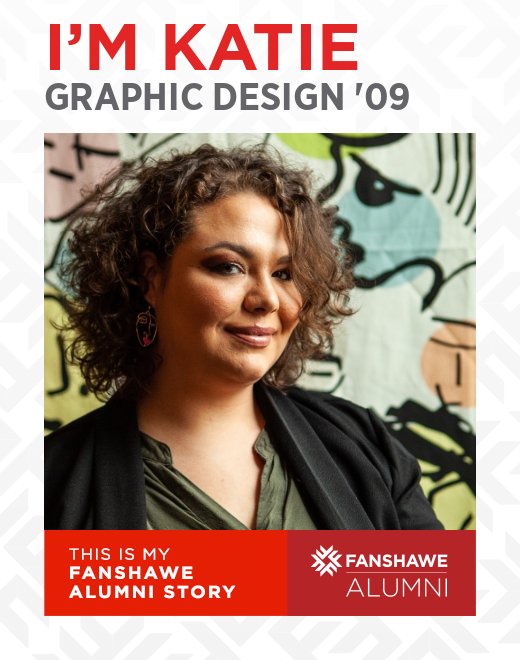 More Stories
I'm Katie
Graphic Design
Likes: 188

What brought you to Fanshawe?
Art and design have always been passions of mine. During my time at Fanshawe, I turned this passion into a profession. When choosing a post-secondary path, my high school yearbook teacher told me about the graphic design program. I had no idea this career was an option and changed my plans. Being in my hometown, enrolling at the college was a natural choice.
Tell us about your favourite Fanshawe experience.
My favourite Fanshawe memories include everything from long lunches in the Oasis to the late nights in the computer labs. My Fanshawe experience was built through hanging out all over campus, laughing with friends and classmates. One of my favourite memories was filming a documentary for a media course. Our film, 'Plain White Tease,' featured us asking students, "What would you do for a plain white tee?" We filmed their super fun reactions, along with an extensive blooper reel.
What impact has Fanshawe had on your life?
I made friendships and connections for a reason, a season, and a lifetime while at Fanshawe. There is material that I learned in my courses at Fanshawe that I recall daily, over a decade later. Most significantly, I gained confidence from public speaking courses. My diploma has helped me build my career and to stand out against others in my industry. It has opened a door to a large network of local, and global, connections.
What are you up to now?
I am an award-winning, independent graphic designer and marketing consultant. I work with a roster of clients in a range of industries in locations all over the world. Prior to founding my own design practice, I spent more than 10 years specializing in corporate communications, specifically around local economic development. I am passionate about my community and am a leader in my local nonprofit, arts and culture, and Indigenous communities. I currently serve as the Vice-Chair of the Board of Directors at Nokee Kwe.