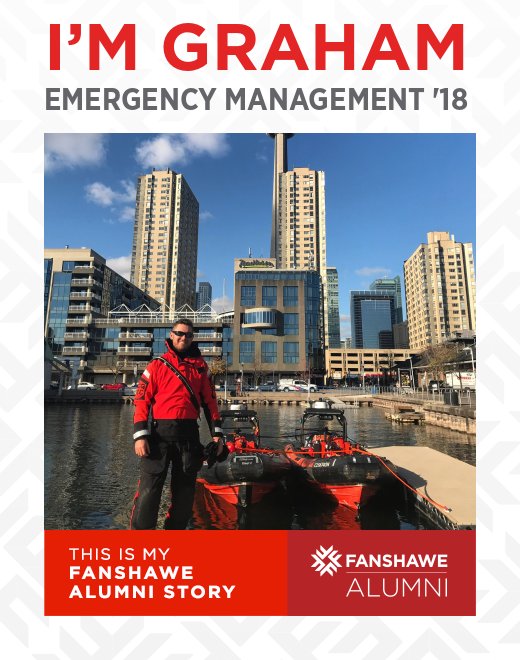 More Stories
I'm Graham
Emergency Management
Likes: 336

What brought you to Fanshawe?
I was looking for continuing education opportunities following my university degree and being located minutes from London, I researched Fanshawe to see what programs they could offer. My siblings went to Fanshawe and both had positive experiences.
Tell us about your favourite Fanshawe experience.
As part of the Emergency Management program, my favourite experience was participating in the "Foxtrot 2" full-scale emergency exercise at Westminster Ponds in London. Secondly, a positive experience was working in the City of London Emergency Operations Centre (EOC) and building professional relationships with community first responders. I saw emergency management "in action" during the Thames River flooding in Spring 2018. Leaders from various city departments, emergency services and the conservation authority worked together and coordinated a response from the EOC to ensure any disruption within the city was prevented, mitigated and recovered from in a timely manner.
What impact has Fanshawe had on your life?
Fanshawe provided continuing education and experience that has proven beneficial to my professional and career development. I am able to apply the knowledge gained through the Emergency Management program within my current field of work. I have recommended the program to my fellow colleagues who wish to advance their understanding and application of Emergency Management.
What are you up to now?
I currently work full-time as a marine Search and Rescue (SAR) Officer for the Canadian Coast Guard, a special operating agency within Fisheries and Oceans Canada.

In addition to providing marine SAR response, I provide training in boat handling, marine navigation and SAR operations. I also coordinate and conduct emergency exercises with first responder agencies at the municipal, provincial and federal level.

The Canadian Coast Guard has provided me with extensive opportunities to enhance my professional and personal development, while providing the tools and support to allow me to be successful. This work has taken me throughout the Great Lakes, across Canada and even to the Arctic where I have been able to work with and learn from fellow employees.

It has been a great adventure and I look forward to seeing where it takes me.