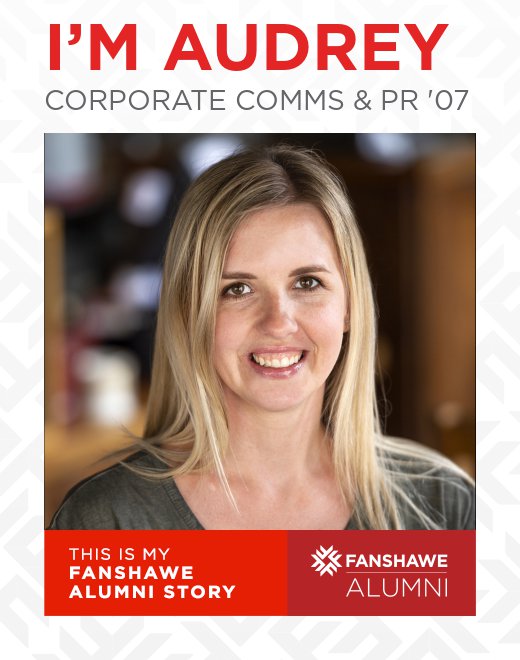 More Stories
I'm Audrey
Corporate Comms & PR '07
Likes: 467

What brought you to Fanshawe?
After university, I struggled to find a career path that I could really get excited about. After several years of working in my hometown and travelling abroad, I learned about Fanshawe's Corporate Communications and Public Relations post-graduate program. When I started the program, I knew I made the right decision because it just felt right. I loved Fanshawe's relaxed atmosphere and the great friends and motivating teachers I met along the way.
Tell us about your favourite Fanshawe experience.
I don't think I can narrow it down to just ONE experience, but my favourite part of Fanshawe would have to be the people. I not only remain in close contact with many of my 2007 classmates, but now that I've worked at Fanshawe for several years, I can't think of a better group of people to work with. I consider many of them my extended family!
What impact has Fanshawe had on your life?
Fanshawe has had a huge impact on my life. It's the place that was able to get me ready for a career in marketing. A place where I've met incredible colleagues, many of whom have become close friends. It's the place I've chosen to work while I raise my growing family.
What are you up to now?
Once I graduated from Fanshawe in 2007, I landed a position at a local marketing firm called The Marketing Department, which became my work home for nearly 7 years where I worked as a Client Services Manager. In 2013, things came full circle when I returned to Fanshawe… this time to work in the Reputation and Brand Management Department as a Marketing Officer where I've worked ever since – apart from a recent brief stint in the Alumni Relations office.