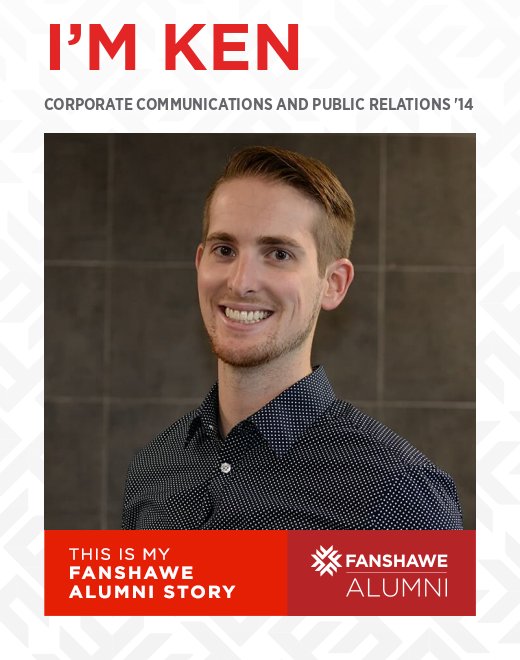 More Stories
I'm Ken
Corporate Communications and Public Relations
Likes: 418

What brought you to Fanshawe?
The great reputation of the college, the program had everything I was looking for after graduating from University and the town of London I knew was a fun and energetic city I wanted to live in while attending school for another year.
Tell us about your favourite Fanshawe experience.
My favourite experience was being able to meet so many others that were going in the same direction as me. We were new graduates asking the question 'now what?'. The post-grad program was great and it was even better working with my fellow classmates who were on the same page.
Throwing events at the school, class outings, hands on group projects and exploring the town of London/working with local businesses, it was a great time.
What impact has Fanshawe had on your life?
Fanshawe has taught me so many things about myself but also important skills I am using to this day in my current job. I was only there for a year but I have made friendships that will last a life time.
My internship for my program was with the YMCA of Western Ontario, which later down the road helped me land my first Marketing/Communications job in Hamilton Ontario.
What are you up to now?
I am currently working as the Digital Marketing Specialist for Outdoor Travel (RV and Trailer dealership). I am also currently enrolled in the South West Fire Academy part-time, completing a few firefighting certificates.