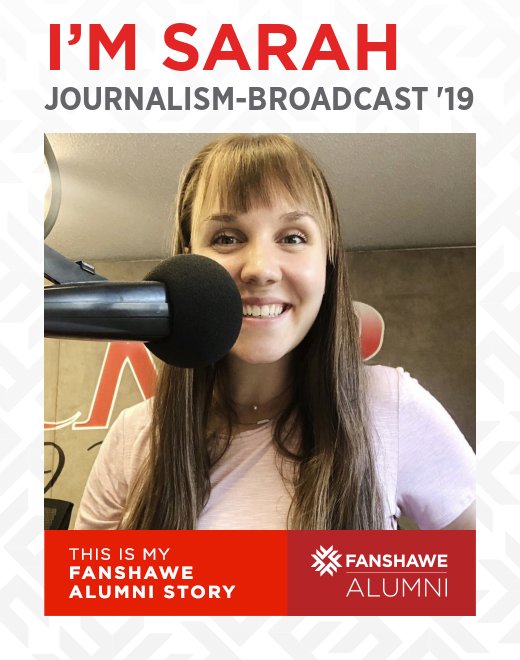 More Stories
I'm Sarah
Journalism-Broadcast
Likes: 428

What brought you to Fanshawe?
I chose Fanshawe because the moment I saw the Broadcast center, I knew I had to go to school there for the hands on experience. I'm from a Northwestern Ontario town of 8 thousand people and I grew up in a radio family! I've always loved to talk, I'm very passionate about news and current events and I had heard Fanshawe's journalism program was very well known. Students learn from teachers who work in the field and the technology was next level. Choosing Fanshawe was one of the easiest and best decisions I ever made!
Tell us about your favourite Fanshawe experience.
My favourite Fanshawe experience...there's so many! All of my best Fanshawe memories were spent in the newsroom, since I was there quite a lot. I can remember one late night a bunch of people from the radio program and journalism program were there and we ordered pizza and just bonded over our passion for radio, music, news-everything! School never, ever felt like work to me, because I loved it!
What impact has Fanshawe had on your life?
Fanshawe showed me what community truly means. Jim Van Horne and Gina Lorentz, who I still keep in touch with, really care about their students and grads. The friends I made at Fanshawe are forever. Fanshawe programs are not like others, you are with your classmates all day, every day and soon become friends. The opportunities I've had are endless. I am forever proud to say I went to Fanshawe and I never hesitate to tell people.
What are you up to now?
After the Journalism-Broadcast program and interning in Winnipeg, Manitoba at 680 CJOB Global News Radio, I took a certificate program at Fanshawe in Public Relations and Corporate Communications. Now, after graduating from that in the midst of the pandemic, I've found myself back in the radio world at my first full time job as a News Reporter and Anchor at my hometown radio station Acadia Broadcasting's, CKDR! I'm so happy that I get to do something that I love every single day, thanks to Fanshawe.