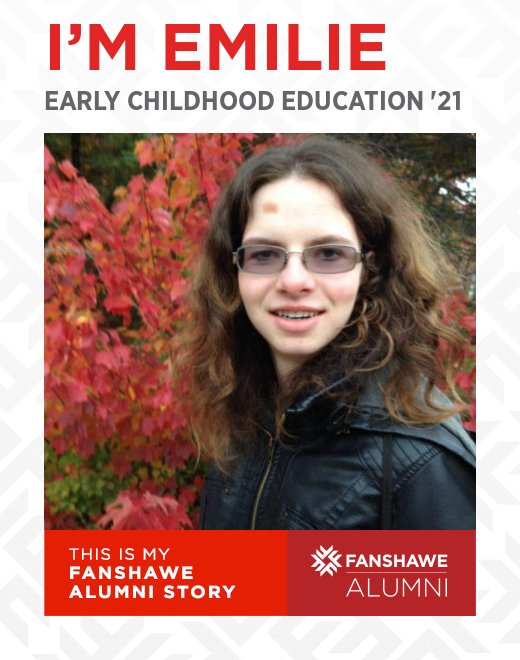 More Stories
I'm EMILIE
Early Childhood Education
Likes: 379

What brought you to Fanshawe?
I came to Fanshawe College as an advanced standing student to complete my Early Childhood Education Diploma when I moved to London.
Tell us about your favourite Fanshawe experience.
Fanshawe is by far the best college and is amazing at helping their students. The Fanshawe staff are the best! As a student who is in the Autism spectrum, the support that Fanshawe has given me has been phenomenal, especially throughout this pandemic. As a Fanshawe Grad I would highly recommend Fanshawe College to students looking to follow their career path.
What impact has Fanshawe had on your life?
After getting my transcript I am now a Registered Early Childhood Educator and worked in an Emergency School Age program. Within a week or two of receiving my transcript I was fully registered with the College of Early Childhood Education and roughly a month later I was working full time for emergency child care until the program finished at my work place. I could not have done it without the support of my amazing professors and the counselling and accessibility office staff at Fanshawe College.
What are you up to now?
With the end of the Emergency School Age Program I am now working as a Supply Registered Early Childhood Educator and looking for full time work. I am also taking a part-time Post Grad at Fanshawe College for a Certificate in Autism and Behavioral Sciences.