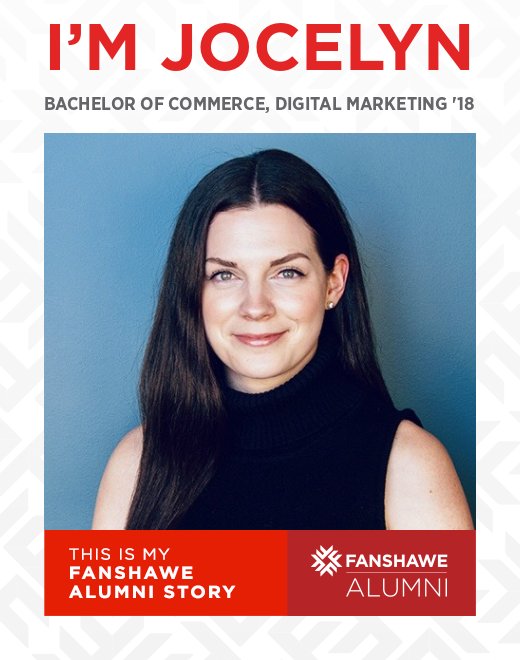 More Stories
I'm Jocelyn
Bachelor of Commerce, Digital Marketing & Business Administration, Marketing
Likes: 448

What brought you to Fanshawe?
I transferred to Fanshawe from Western in 2011. I was enrolled in business at Western and it wasn't a fit for me. I was looking for more specialized courses, so I decided to enroll in the 3 year marketing program! I absolutely loved the program. I came back in 2016 to complete the Bachelor of Commerce program part-time, while working full-time!
Tell us about your favourite Fanshawe experience.
During my time at Fanshawe I was able to participate in a bunch of cool things! As a part of my program I was selected to compete in the OCMC marketing challenge, which was an invaluable experience and resume builder. I also participated in the Community Consultancy program which definitely helped me land my job after graduation! I also completed a semester abroad in Ireland after being awarded the Tradewinds Scholarship through Fanshawe's business school. I formed many lasting relationships with peers and instructors.
What impact has Fanshawe had on your life?
Fanshawe had a very large and great impact on my life! I feel like it is a wonderful school to attend if you are committed to submerging yourself into your program and taking advantage of all the amazing experiences that are offered. I had countless hands on learning experiences which built such a strong resume for me upon graduation. I was hired for my first job before I had technically graduated! Fanshawe gave me a strong foundation to have a successful career.
What are you up to now?
I am working for an American company called Standard Imaging who is a manufacturer of medical devices used in radiation therapy around the world! I am a regional account manager who manages a territory across eastern Canada and the northeastern USA. It is a wonderful company and a very cool position with lots of flexibility and travel!