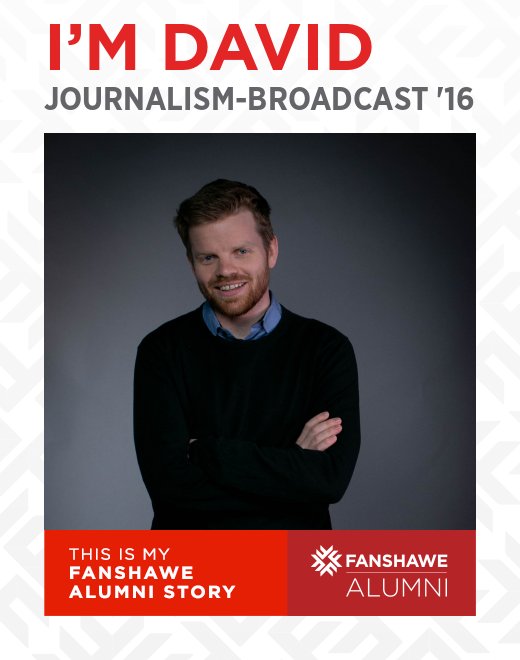 More Stories
I'm David
Journalism-Broadcast
Likes: 410

What brought you to Fanshawe?
Ever since watching Hockey Night in Canada as a kid, I had the aspiration to be a broadcaster. In collaboration with Western University, Fanshawe College helped fulfill that dream. I studied broadcast journalism, and graduated in 2016.
Tell us about your favourite Fanshawe experience.
My favourite Fanshawe experience is a toss up. In the final year of broadcast journalism, each student plays a vital role in running 106.9 the X. For four weeks I covered London City Hall, and really enjoyed learning about municipal politics and calling into the station with breaking news. I also had a great time doing a weekly sports radio show with my classmate Brandon Piper.
What impact has Fanshawe had on your life?
Fanshawe gave me reps. Week after week, interview after interview, newscast after newscast, it helped me to refine my craft as a journalist. To this day I still reach out to Jim Van Horne and other professors every once in a while for advice, and continued mentorship.
What are you up to now?
Today I am the Assistant Program Director and Afternoons host at LIFE 100.3 in Barrie, Ontario. I have a weekly podcast called Culture At A Crossroads, and I enjoy dabbling with freelance writing for different news publications.