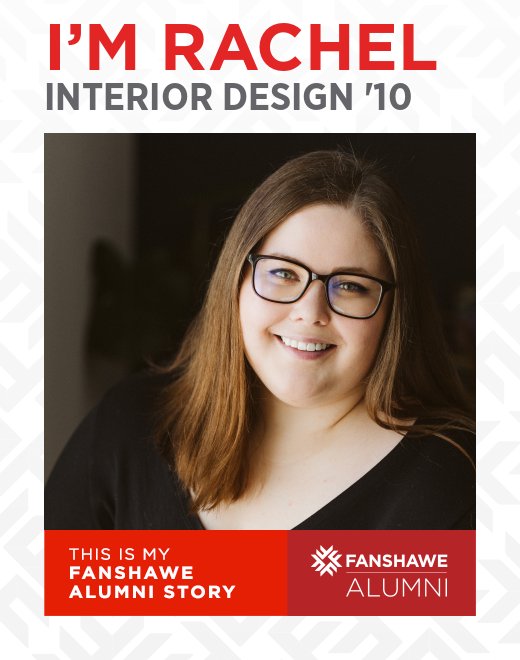 More Stories
I'm Rachel
Interior Design
Likes: 259

What brought you to Fanshawe?
I was looking for a hands on interior design program that could give me the skills I needed to work confidently with clients. My boyfriend (now husband) was going to the University of Western Ontario so I thought I would check out the local college because the university didn't have an interior design program.
Tell us about your favourite Fanshawe experience.
I loved getting the opportunity to work with the great people at the City of London for my co-op in my final year. It was the best work experience I could have asked for.
What impact has Fanshawe had on your life?
The interior design program set me up with the technical skills I needed to succeed over the past 12 years. After graduating I enrolled in the University of Manitoba's Bachelor of Arts and then Bachelor of Environmental Design program where I graduated in 2019. Without the technical skills I learned at Fanshawe I wouldn't have done as well in the Bachelor's program.
What are you up to now?
I co-founded Bungalow Interior Design in Winnipeg, MB, in 2020 with fellow University of Manitoba Faculty of Architecture grad Corina Penner. We are a residential design firm specializing in mid-century modern bungalows, however we have completed projects of all sizes and scopes, from kitchens and bathrooms to home additions. Give us a follow @bungalow.i.d !