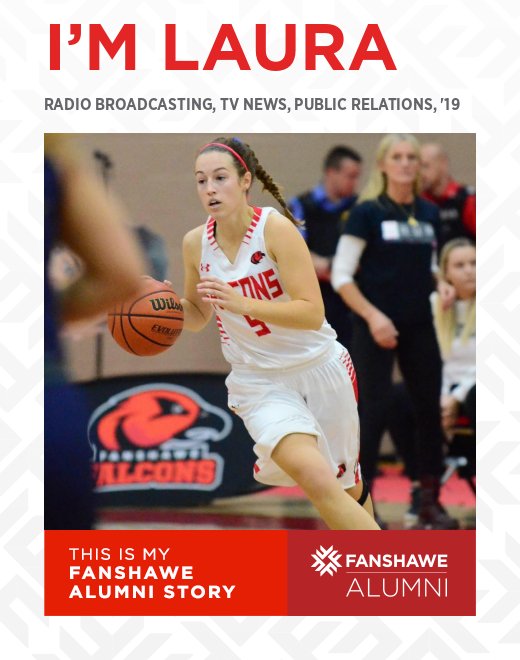 More Stories
I'm Laura
Radio Broadcasting, TV News, Public Relations,
Likes: 437

What brought you to Fanshawe?
The reputation and excellence of the radio broadcasting program along with the women's basketball team. I was in contact with the head coach and was recruited for a spot on the team.
Tell us about your favourite Fanshawe experience.
Being able to run a fully operational radio station in 106.9 The X was an amazing experience and helped me build my resume. Being on the basketball team with some amazing teammates and coaches, we improved every year and went on to be Ontario (OCAA) Champions in 2019. Being a part of the growth of the Fanshawe Falcons women's basketball program was an amazing experience.
What impact has Fanshawe had on your life?
Fanshawe has helped build me into the person I am today. Between the people I have met in athletics to the skills and experience I gained on the court and in the classroom, I would not be where or who I am today without attending Fanshawe.
What are you up to now?
I am currently a communications coordinator in the Department of Athletics and Recreation at Wilfrid Laurier University and an assistant coach on the women's basketball team. I volunteer with ONERUN and am working on growing my volunteer experience by coaching more high school level basketball teams in the Stratford and Kitchener areas.