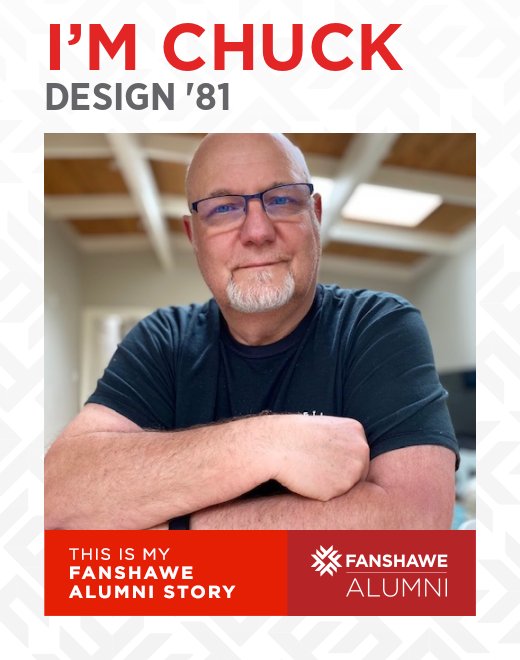 More Stories
I'm Chuck
Design
Likes: 308

What brought you to Fanshawe?
I was prompted to attend Fanshawe's School of Design to pursue an interest in making the built environment around be better and to learn about building a career around Design Thinking. At that time, there was little understanding of the tools, processes and methods now understood as design thinking in the early 2000s, Design Thinking became a discipline.
Tell us about your favourite Fanshawe experience.
My Fanshawe days were memorable, filled with friends (maintained to this day), discovery and a sense of wonder about the future. It was pre-tech, pre-web and simpler on many levels. The mix of design disciplines (Fashion, Urban, Landscape, Merchandising, Marketing, Management, and industrial) made for a great diversity of thought for such a small program. Today these disciplines are their own streams. When creative minds are set loose to discover, anything can happen.
What impact has Fanshawe had on your life?
If I were to sum up, the Fanshawe experience, I'd use the word 'possibility'. The program and the teaming London-based student community helped me explore the possibilities ahead, find love, laughter, modes of expression, and my first career job. It made me continue seeking new opportunities and possibilities that have buoyed me through life. It was the kick-start I needed to take on the world. Even then, I knew it was a stepping stone to a lifetime of learning.
What are you up to now?
Chuck has a long work history at the intersection of people and technology. His work includes Blockchain, Open Innovation, CleanTech, EDTech, TalentTech, Smarter Cities and Digital Strategies.
Chuck is currently the Chief Learning Officer at MeetAMi. He is a former IBM executive with roles in Open Innovation, Research and Learning and the former Chief Operating Officer of HeroX. He is also a TED Talker, designer, Musician, Hockey Player and community volunteer living in Tsawwassen, BC. linkedin.com/in/chuck-hamilton-951483