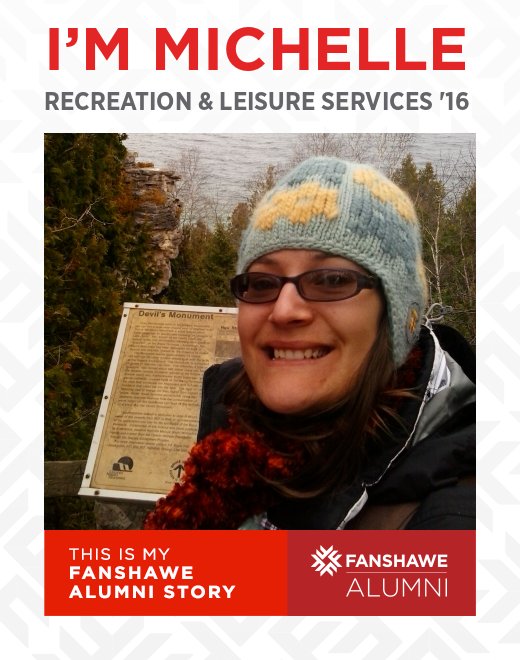 More Stories
I'm Michelle
Recreation & Leisure Services
Likes: 342

What brought you to Fanshawe?
After leaving my career of nearly 10 years, and moving back across Canada, I decided to attend post-secondary to get accreditation in a new field. Fanshawe was my first choice to do that.
Tell us about your favourite Fanshawe experience.
My professors would laugh at the irony of my answer, but I'd have to say, winter camping was my favourite experience. Visiting Budweiser Gardens & Western Fair District, are a close second.
What impact has Fanshawe had on your life?
Having never attended post-secondary after high school, and thereby being a mature student, I was very nervous and skeptical about being at the bottom in a huge setting, as I had previously been in a leadership and forefront roles prior. The professors and classmates became like a second family, and thank goodness I wasn't the only mature student in the program. I learned so much that I still apply in the workplace today.
What are you up to now?
COVID heavily impacted my field, as special events and large gatherings have basically halted. However, I'm still involved in online event planning, and volunteer event planning, and help to organize fundraisers. Locally, I organized drive-by birthday parades for kids with complete strangers participating at the beginning of COVID when everything was shut down. I hope to return to event planning full time once COVID is in the past.