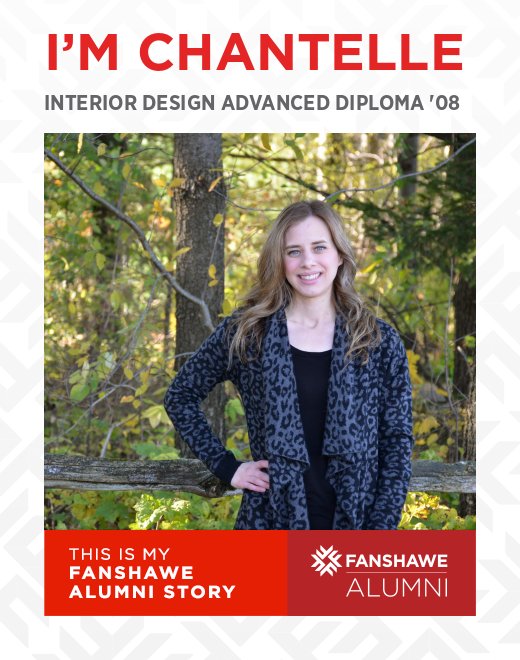 More Stories
I'm Chantelle
Interior Design Advanced Diploma
Likes: 413

What brought you to Fanshawe?
I chose Fanshawe College because the interior design program was a co-op program which enabled me to gain valuable workplace experience alongside in class instruction.
Tell us about your favourite Fanshawe experience.
My favourite Fanshawe College experience wasn't a particular moment but rather the lifelong friendships I created with my fellow classmates (and students from other programs).
What impact has Fanshawe had on your life?
Attending Fanshawe College prepared me with the fundamental knowledge and skills to begin my journey in the interior design world.
During my time at Fanshawe, I honed my skills in AutoCAD and 3D computer rendering which I proudly say today is my favourite part of the job!
I was able to continue working with my last co-op placement once I graduated and 3 years ago , I left that job to open my own interior design business.
I couldn't have done it without the solid foundation my education at Fanshawe College provided me!
What are you up to now?
In 2017 I started my own business - Chantelle McNeish Design.
I mainly work on residential new construction and renovation projects in the Stratford, ON and surrounding area.
I'm so happy to say that I have my dream job!