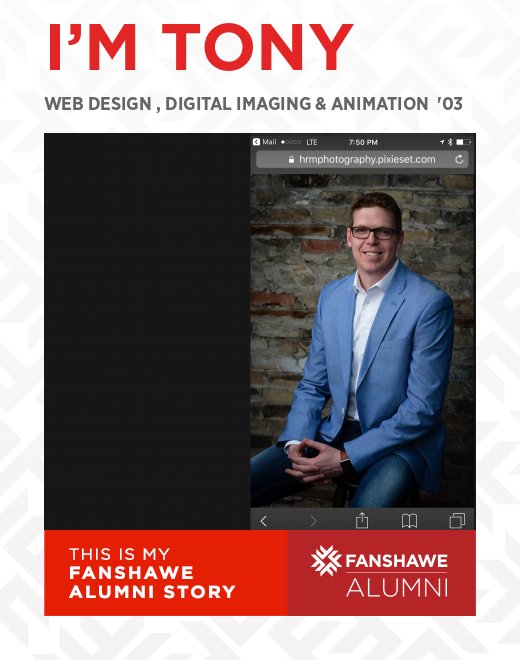 More Stories
I'm Tony
Web Design , Digital Imaging & Animation
Likes: 441

What brought you to Fanshawe?
I was very interested in Graphic Design and Animation and Web Design and Fanshawe had the most robust courses offerings in all of these studies and offered part-time so I was able to continue to work while attending college via the part-time and night programs. Being able to study these 3 unique focus areas at one place on my schedule was a huge factor in my decision to choose Fanshawe
Tell us about your favourite Fanshawe experience.
My Favorite Fanshawe experience was during our web design program, the facilitator had brought in an actual Canadian Legion who needed a new website, and we all got to ask questions and communicate with the client and build them our own version of their website and seeing how differently everyone interpreted the client asks and how diverse the many designs were opened my eyes to how broad and interesting all things design can be and how to manage the client-side of the relationship when designing anything was a very valuable exercise.
What impact has Fanshawe had on your life?
After graduating, I went on to create a small design studio and made a ton of websites and animations, etc. Once I had a couple of years experience I founded a disruptive Web-based HR Consultancy which in 2008 didn't exist. We are now nationwide and in business for over a decade with over 20 thousand clients. As a CEO of one of Canada's fastest-growing tech companies for 7 years straight I can say my dream of becoming a Web Designer and CEO started at Fanshawe.
What are you up to now?
I am now the Founder and CEO of HRdownloads.com Canada's #1 Online HR Resource
I am the Creative Director at Fullstack.com and still enjoying my passion for Web and Design and I am the President and Founder of 10NT Properties Inc.