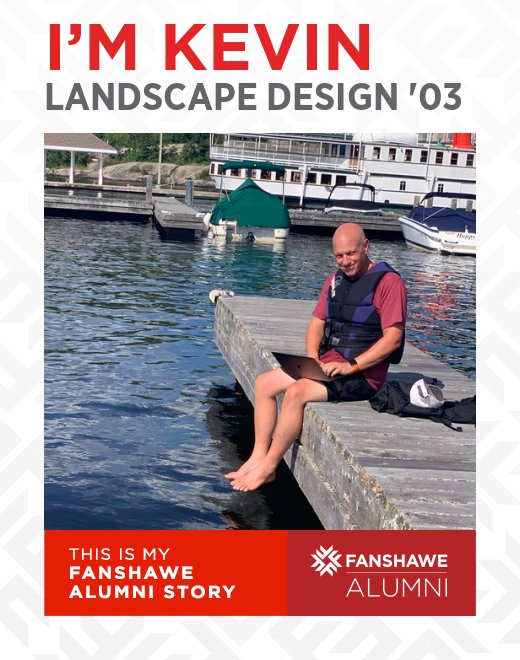 More Stories
I'm Kevin
Landscape Design
Likes: 397

What brought you to Fanshawe?
I attended the Landscape Design program at Fanshawe before completing my BLA in Landscape Architecture at the University of Guelph. I was looking for that hands-on experience and definitely got that before going on to University. The hands-on approach fit well with my learning style and I felt incredibly challenged and pushed to learn and grow in this program. I don't believe I would have taken as much away from my time at U of G without first completing my program at Fanshawe.
Tell us about your favourite Fanshawe experience.
My favourite Fanshawe experience was in the classroom. There were so many amazing teachers - Michael Pascoe was one among many that stand out to me. He really inspired me to think about how far I could go in this industry as well as how I can grow personally. I believe it was Fanshawe that made me develop a different view on what landscape design meant. I wouldn't have started my first business without it.
What impact has Fanshawe had on your life?
My program at Fanshawe taught me the value of hard work and perseverance. The biggest impact that Fanshawe has had on my life is by encouraging me to work hard for what I want and to never give up. I believe it's made me a better businessman, leader, father and community member. I use the skills I learned at Fanshawe every day. Although I've left the physical side of landscape and labour, I apply much of my learnings to my role now in technology.
What are you up to now?
Today, I am using the work ethic and experience gained through Fanshawe to help solve problems in the construction industry with technology. I left Fanshawe and went on to build one of the largest landscape companies in Ontario. With DOZR I am now working with an amazing team to build a construction tech company to help bring ecommerce to equipment rental companies across Canada and the USA.