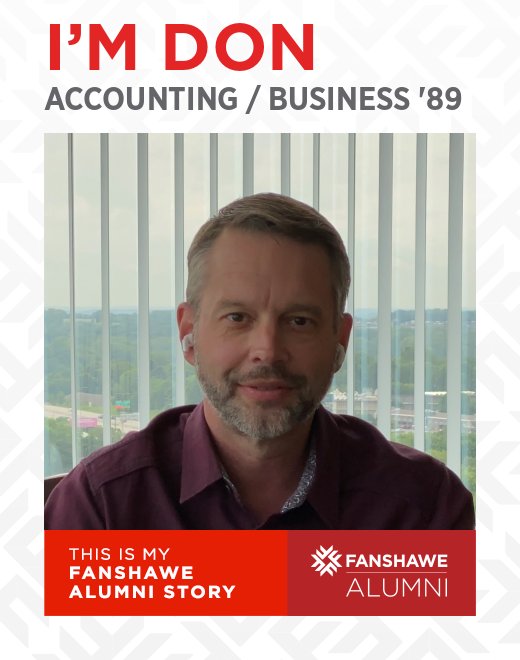 More Stories
I'm Don
Accounting / Business
Likes: 418

What brought you to Fanshawe?
I came to Fanshawe as I had a desire to switch majors in my post secondary education, but really wanted a more practical approach. Fanshawe had a reputation of teaching what you would use...not just what was in the textbook...and had instructors that had real life experience applying those skills.
Tell us about your favourite Fanshawe experience.
Believe it or not...my most memorable experience was Tax. Mr. Jarvis taught what could have been the most dry course of the bunch...but did it in such a way that made me want to learn more. He made it a puzzle, and had fun with it. This was instrumental in my ongoing thirst for knowledge and understanding.
What impact has Fanshawe had on your life?
The early experience at Fanshawe helped me get into my #1 goal company of 3M. It also instilled in me an ongoing thirst for more knowledge. This has kept me learning and trying new things in my 30+ year career at 3M, including business travel to over 40 countries, relocating to the USA, and meeting hundreds of incredibly interesting people...which helps me learn about the world and those in it. Last year, I was honored to represent our Fanshawe family at the Ontario Premier Alumni awards...a night I will never forget.
What are you up to now?
Currently, I am living in St. Paul Minnesota, and am the VP for Business Finance and FP&A for 3M. It is an incredibly complex and rewarding position, working across multiple industries and dozens of countries. I get to continue to learn about new businesses, new cultures, and the past year have been proud to be part of a team that has done a lot to help the world through the pandemic. As well, I have had the honor to represent the company in foreign countries to help in local communities helping refugees, and other groups.