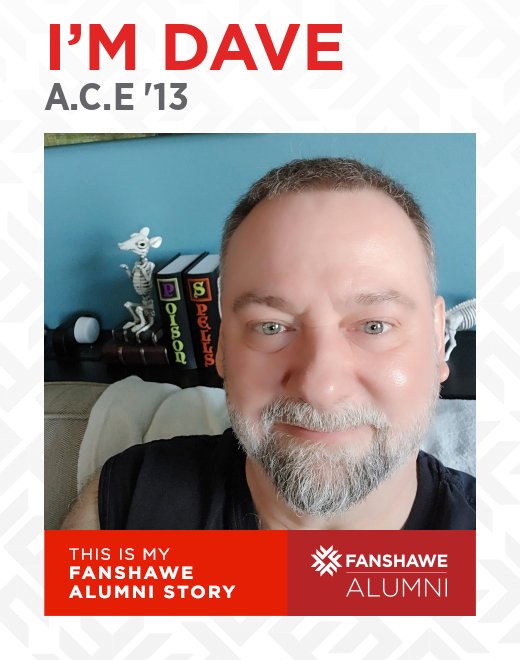 More Stories
I'm Dave
A.C.E
Likes: 255

What brought you to Fanshawe?
I had a burning desire to complete something I was unable to in my youth. I participated in (and graduated near the top of the class) in the A.C.E program.
Tell us about your favourite Fanshawe experience.
Well, my teacher, Herda. She made it possible for me to continue with the school, along with my classmate Kyle. We helped one another with our weaker subjects.

I took ill mid-point of the program. With their selfless assistance, I was able to continue the course from London Hospital in the I.C.U. dealing with life-threatening pancreatitis.

Without their kindness, I would have lost months of very hard work. I am grateful I was not compelled to start all over in a different semester (without Kyle and I tutoring one another, we both could have failed the subjects we struggled with).
What impact has Fanshawe had on your life?
Fanshawe gave me back my self-respect.

I deal with ADHD, and was diagnosed at age 46.

I am intelligent, but must contend with a racing brain. I found it near impossible to concentrate scholastically. I lived in a constant state of frustration. This resulted in my dropping out at age 16. This, and other outlying factors compelled me to walk away i failure back then.

Thanks to Fanshawe and the dedication of my teachers, as well as my study buddy, Kyle, I can now hold my head high instead of living with the shame of that decision so long ago.
What are you up to now?
I have had a difficult run of it since leaving Fanshawe. Many health and family events have prevented me from furthering my education. Add to that COVID, well, we all had to contend with that, sadly. I am looking towards returning to school to take on a achieving a copywriter certification. I have a gift, and plan to use it to further myself in the coming year, barring further complications.